Spending Christmas in the NICU is one of the most challenging places to spend such a significant holiday.  Although I never spent this holiday in the NICU, I know how important it is to find ways to celebrate during life's difficult journeys. From Mini to Moose was created from finding ways to celebrate special holidays while in the NICU.  For most people, Christmas is a time filled with family, friends, and fun traditions, but if your spending the holiday in the NICU, you'll need to find more inventive ways to celebrate. Here is a list of 12 ways to celebrate Christmas with your NICU baby to add a little fun to your difficult journey. 
Decorate Your Pod-  Most hospitals allow you to decorate your baby's designated area.  You can hang a stocking, create Christmas decorations, or even put up a tiny NICU Christmas Tree decorated with your baby's milestone cards.  Just because you aren't home doesn't mean you can't get into the Christmas spirit!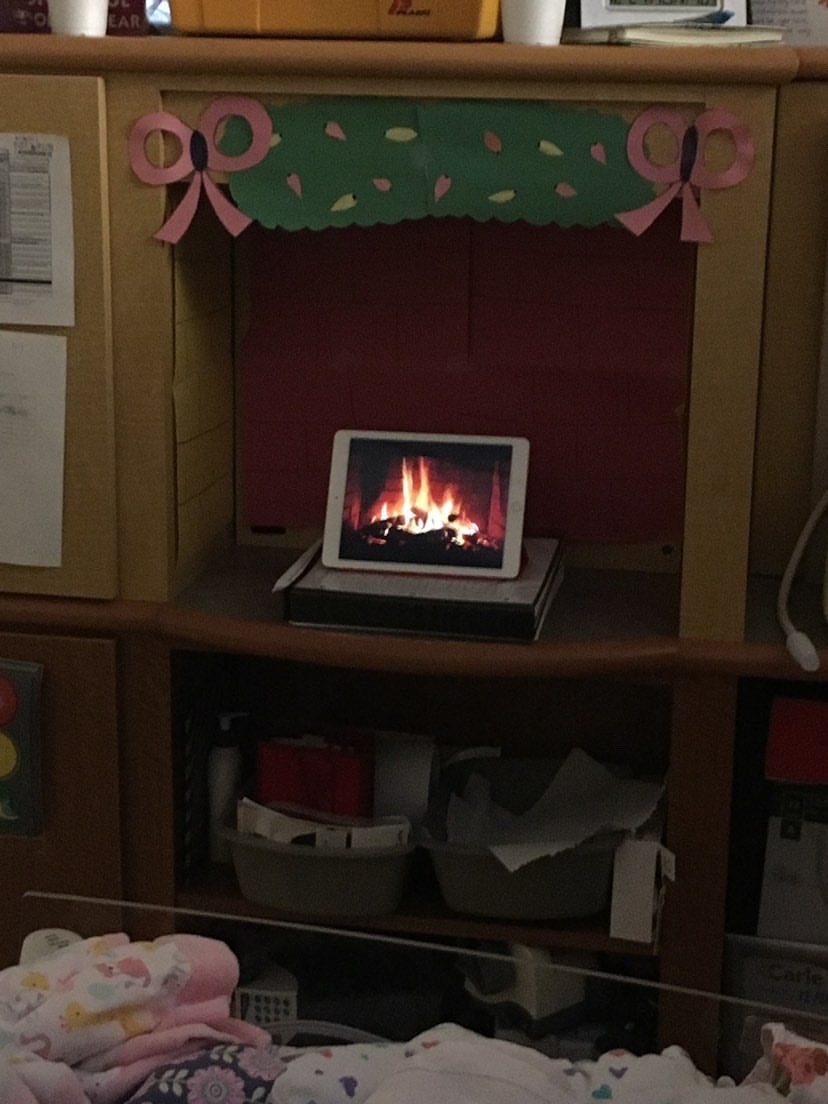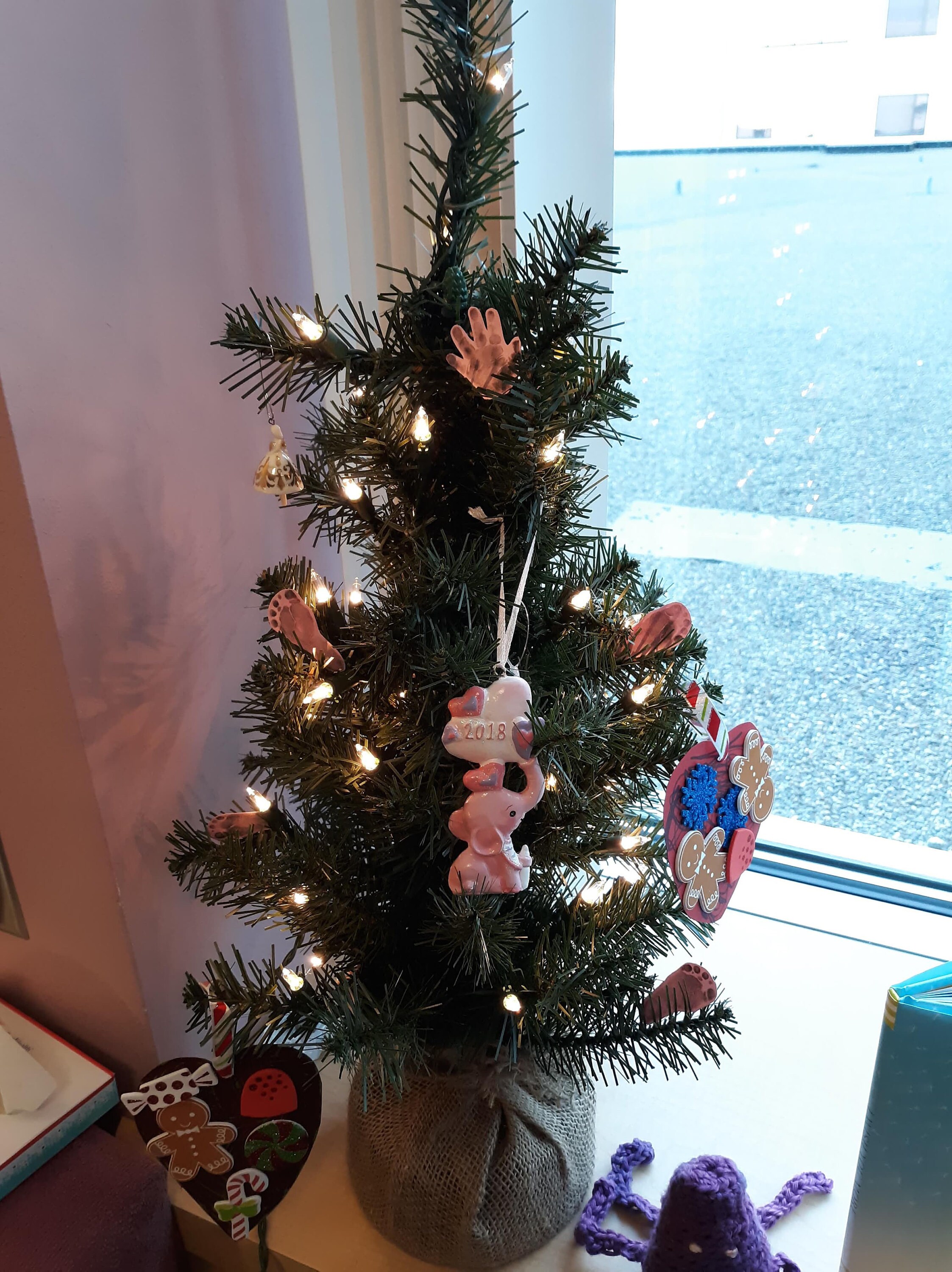 Christmas Eve Pajama Party-Even if your baby is not wearing clothes yet a Christmas Eve Pajama party is a must!  In my house, we've always had the Christmas tradition of getting comfy and cozy in our Pajamas and getting ready for Santa.  Just because your baby is in the NICU doesn't mean you can't still celebrate this tradition.  If they are old enough, they can wear a matching pair, but if not you can bring the tradition to them.  Take the time to sit next to their isolette, read them The Night Before Christmas, and take the evening to enjoy your baby's first Christmas with their very first Christmas Eve tradition.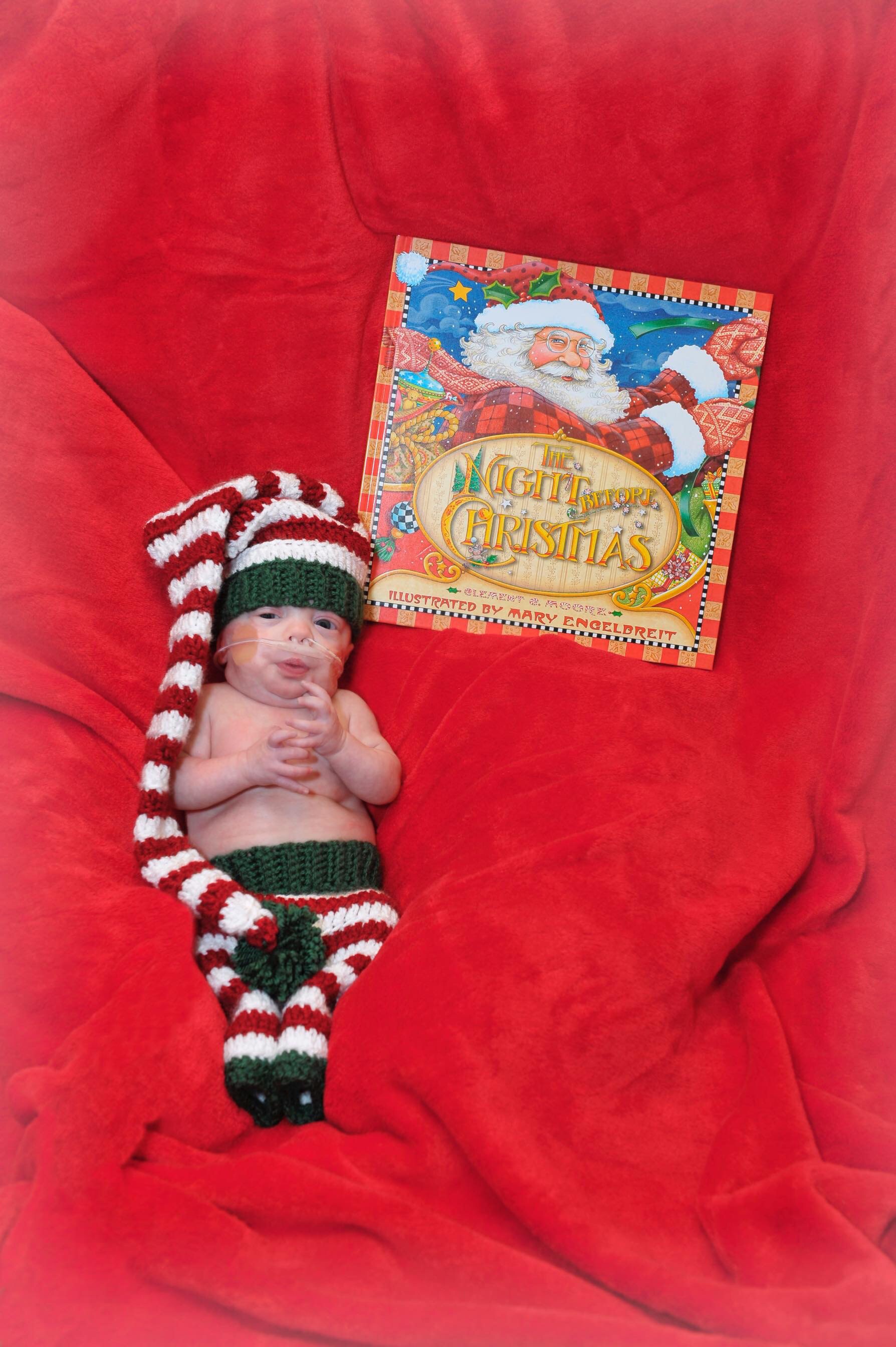 Get an Ornament Made With all of their Tiny NICU treasures-  Because I'm a Pinterest freak, I look at all things preemie.  The other day I came across an ornament that held tiny jaundice goggles, a preemie blood pressure cuff, hospital bracelet, and preemie pacifier.  An ornament would be a perfect keepsake for any preemie mom to put together to remember their tiny Christmas miracle forever.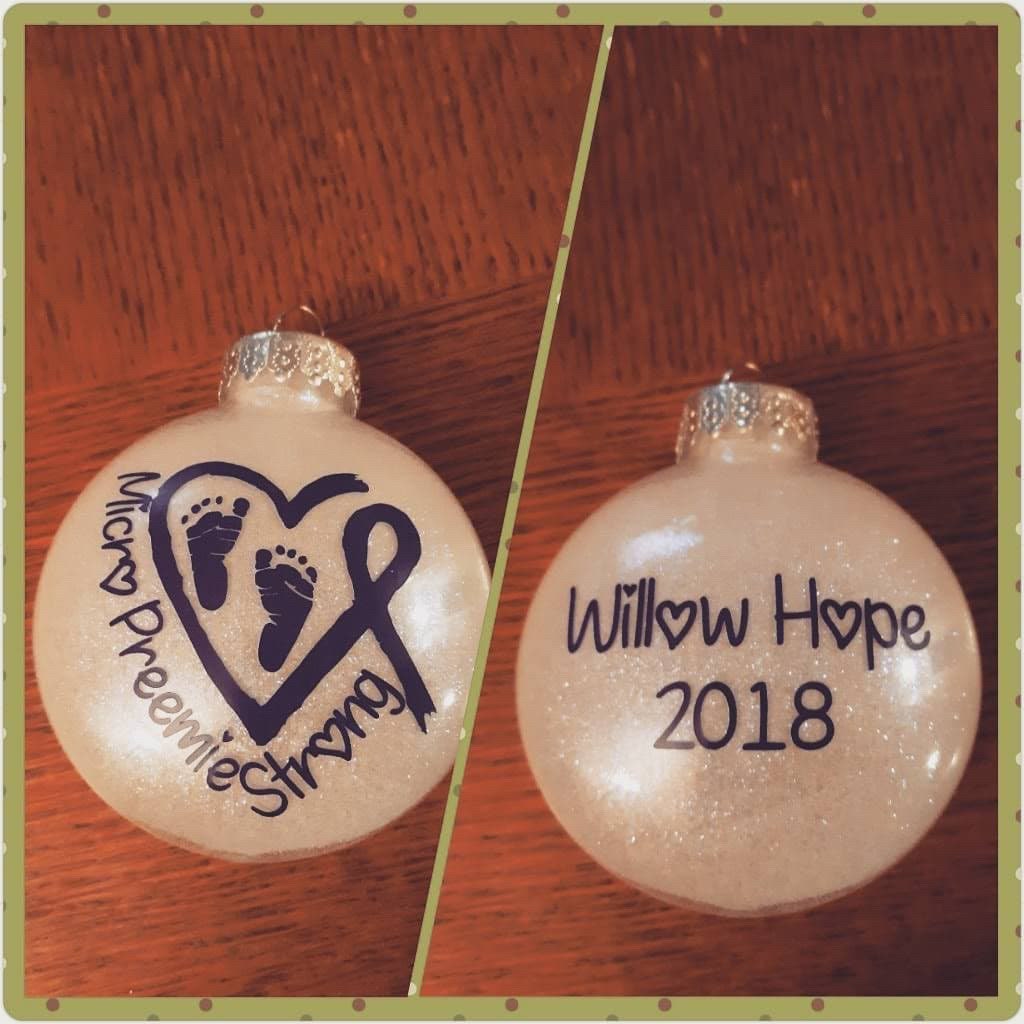 Reach out to Other Parents and Plan a Special Christmas Meal- No one understands what you are going through like another NICU parent.  Take the time to get to know other parents in your unit, because they can be such a support during your NICU journey.  Plan out a meal, even if you order takeout and eat it in the hospital cafeteria.  
Bring the Nurses Cookies- Bringing your nurses' cookies for the holidays can become a tradition even after you leave the NICU.  Not only will your nurses appreciate this gesture, but you can also use this as a means of showing your baby just how special the people who cared for them on their very first Christmas were.  Make this a tradition that you can include in your family every year.  
Have  A Christmas Photo Shoot- My daughter is three now, and I often look back at our NICU journey and wish that I had taken more pictures.  It's important to celebrate your baby in any small way you can.  Some NICUs offer Christmas photos, but if not, get inventive! Whether it's a Christmas onesie, pajamas, or approved photo props, make your baby's first Christmas memorable by taking as many pictures as your heart desires.  Even if you don't realize it now in the future, those photos will be treasured.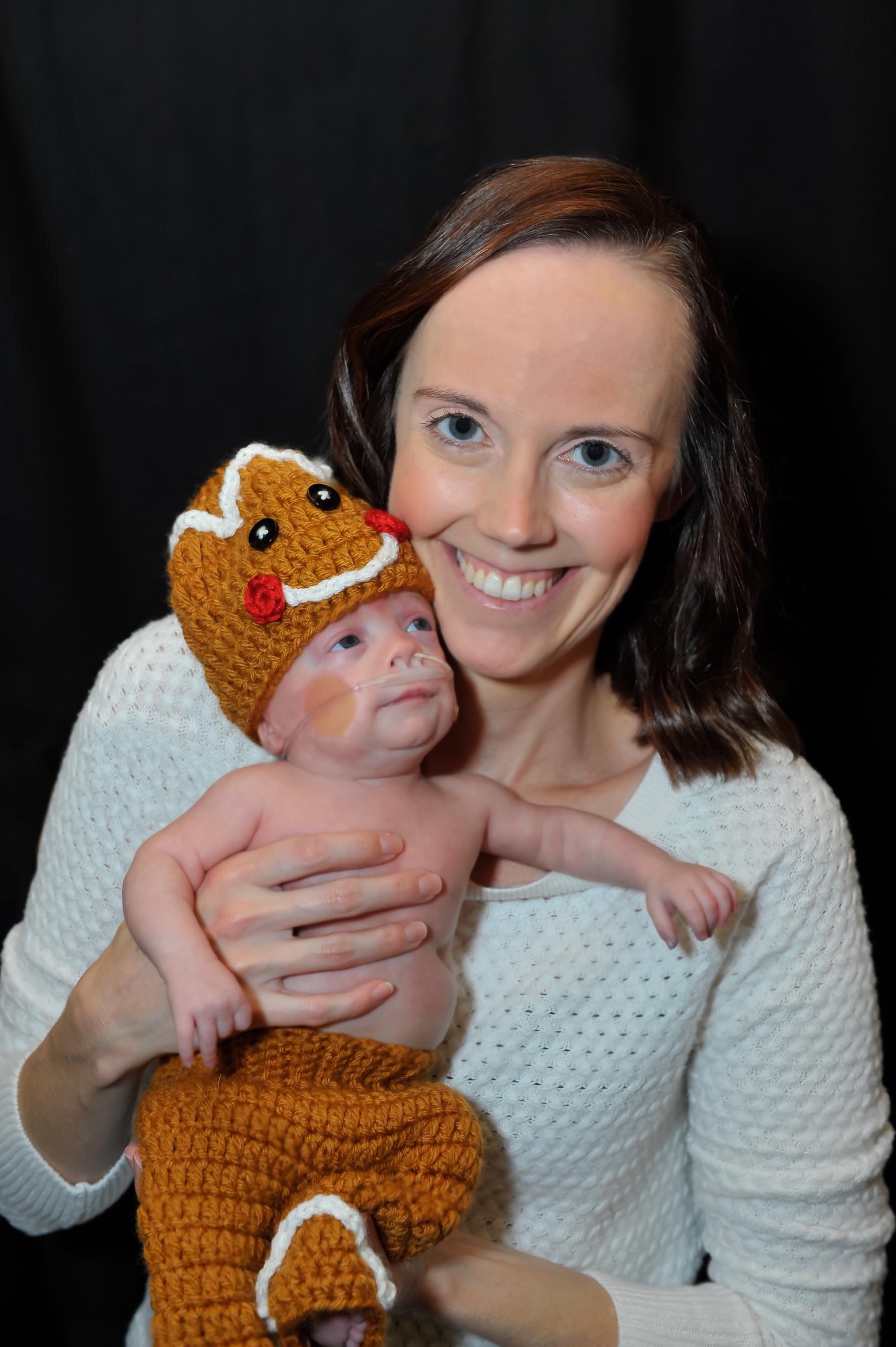 This NICU is under Elf Surveillance- Why can't you have an Elf on a Shelf just because your baby isn't home?  An Elf would be a great way to bring a little spirit to your holiday and give you a reason to smile each day as you document your NICU baby's Elf, and the antics he gets into while visiting the NICU.
Write your baby a Christmas Card- The NICU journey often brings out your sentimental side.  Looking back, I always say I wish I wrote down everything I was experiencing and feeling when it was fresh on my mind.  Take the time to write your baby a Christmas card, and tell them all about their very first Christmas.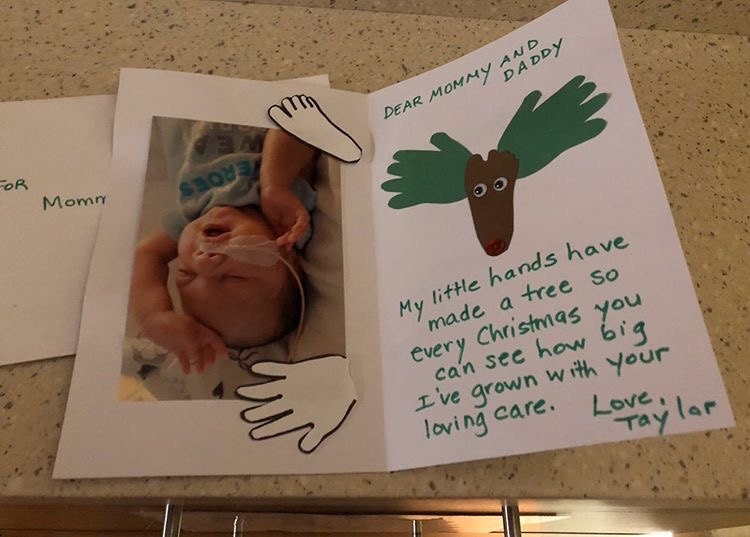 NICU Giving Tree- There are always families in need, especially families who are going through the NICU journey.  In the true tradition of the Christmas season, take the time to pay it forward.  Reach out to family, friends, and those in your community to create a NICU giving tree sign up.  Whether it's preemie clothes, gas cards, blankets, or gift certificates, other families appreciate this small gesture of kindness as they are on the same painful journey that you are.  
Make a Christmas Craft- My most treasured NICU items are cards and crafts with my daughter's tiny footprints.  Take the time to make a card or craft to remember that first Christmas.  Whether it's Mistle Toes or hand and footprint tree, these are items you can use to look back and remember that very first Christmas.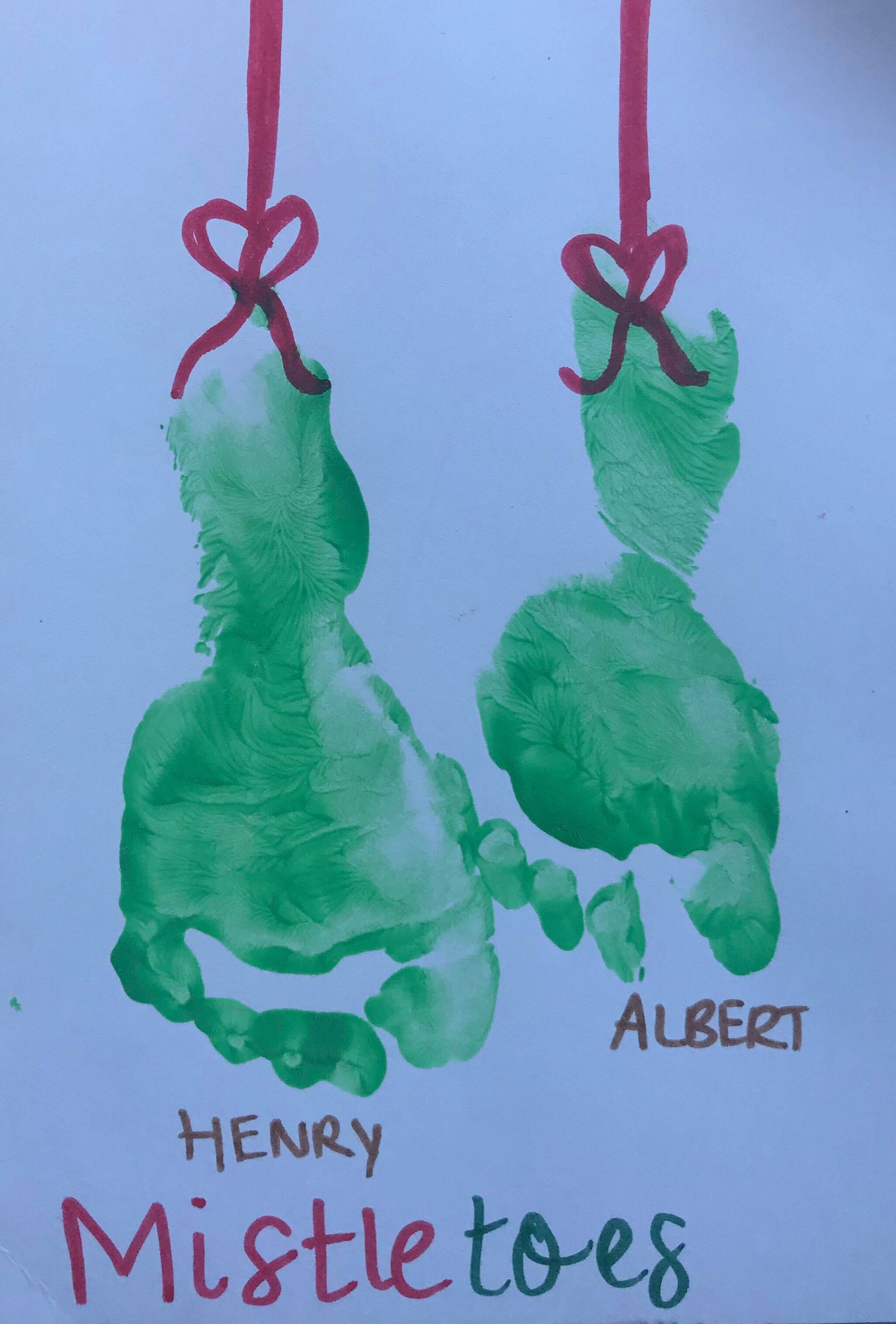 Christmas Wish Jar- A  Wish Jar can be something as simple as a decorated Mason Jar.  Pull aport some paper, and every day in December, take the time to write your baby a wish or a note.  You can keep this and do this every December to keep the tradition alive.  
My First Christmas Home- Our very last suggestion is actually for life after the NICU.  Do something special to mark your baby's first Christmas home.  All of those special firsts you felt like you missed are really just an avenue to find new ways to celebrate.  Although it might not be your baby's first Christmas, their first Christmas home is a reminder of how much can change in a year.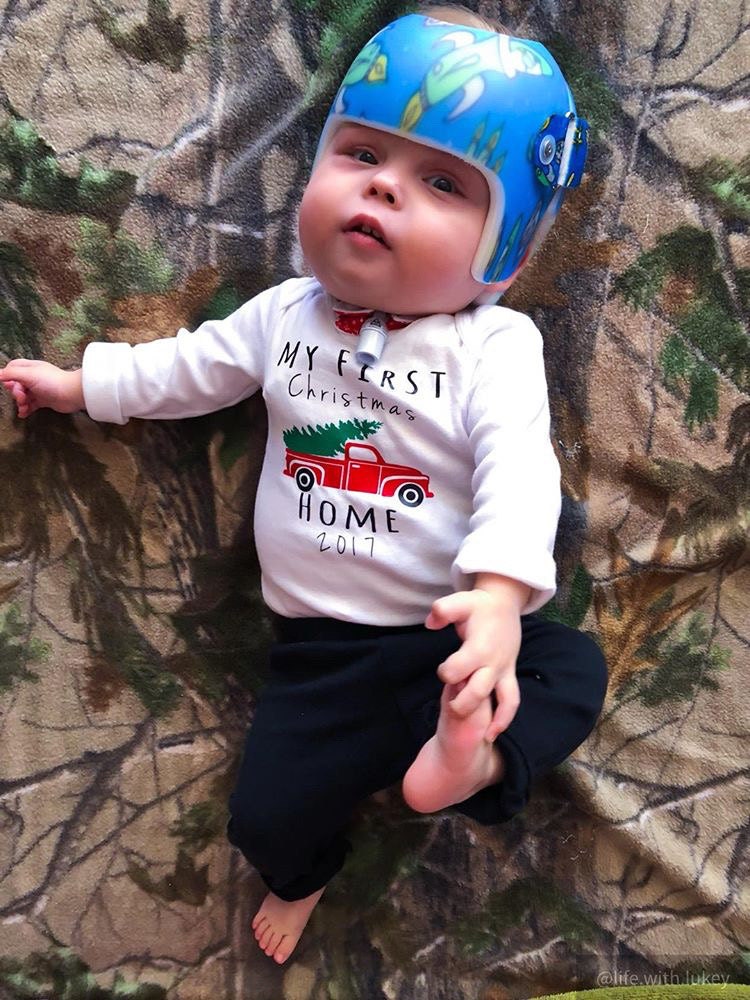 Did you have a tradition you started in the NICU?  We'd love to hear about it!